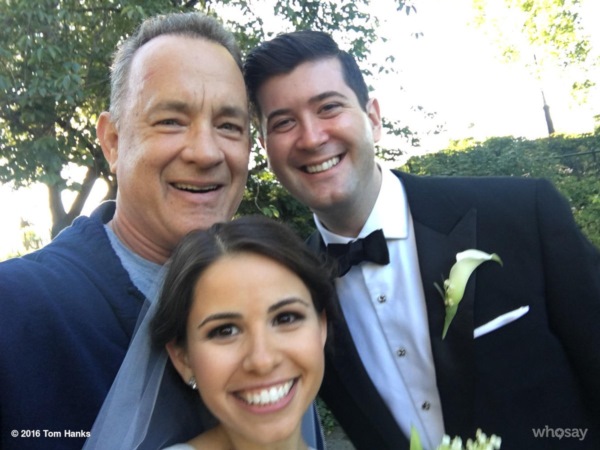 source: twitter
Ultra famous movie actor Tom Hanks is popular with people all over the world as he is claimed to be a very friendly and nice person!
A young couple taking wedding photos in Central Park in New York City recently confronted with Tom Hanks who had been out jogging in the park! After stopping and saying "Congrats!" The actor took the time to have his photo taken with the happy couple!
Tom Hanks is too easy-going!
Tom Hanks said the other day while on the set of the film "The Miracle of the Hudson River". When I came to Japan for a movie promotion recently, dinner at a soba restaurant in Tokyo created another happy encounter for a bunch of Japanese patrons so I took some photos and posted them on Twitter!
Rocking Tokyo with My crew! Hanx. pic.twitter.com/U1gG22KHhq

— Tom Hanks (@tomhanks) 2016年9月16日

This tweet has also become quite a hot topic and Tom is having a good time!
▼ Here is the photo posted on Twitter by Tom Hanks and the happy couple!
Elizabeth and Ryan! Congrats and Blessings! Hanx. pic.twitter.com/Uy2GIqYphU

— Tom Hanks (@tomhanks) 2016年9月24日

They had taken wedding photographs, so a photo with the famous actor was a huge bonus!
Tom Hanks Crashes Our Wedding.
A scene at that time was posted on Instagram of photographer who was in charge of photographing on this couples wedding day! Tom Hanks actually came to their wedding!

Nice picture! The wonderful expression of his surprise is very cute.
Videos were also taken of this special event!
See Video Here
Even though he is a super famous Hollywood celebrity, it is such a wonderful quality to be so friendly and down to earth!
---
source:

twitter

/

cnn.com

/

vimeo.com
---