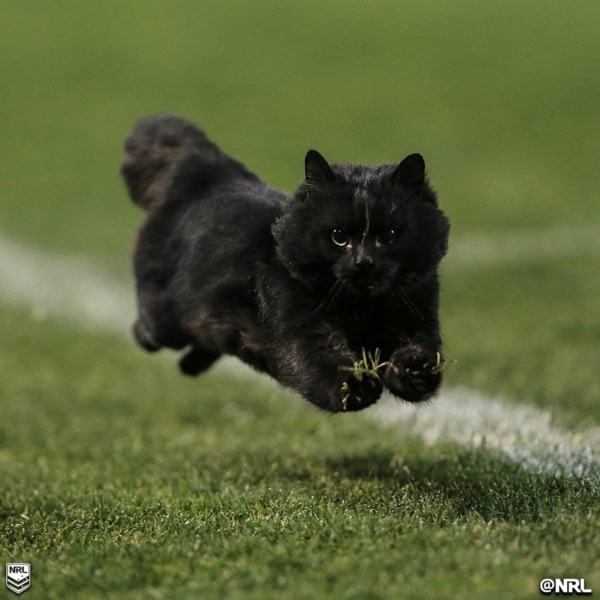 source: twitter
In the Australia/New Zealand Rugby League or the National Rugby League (NRL), there was a recent episode when a small black cat suddenly surprised players and fans during a game by running on the field! Photos and comments of this intrusion was posted on the Social Media Network (SNS) of Twitter!
Official League Twitter Posted Online.
Best Cat Photo Ever!#NRL pic.twitter.com/qTe6zEkOzP

— NRL (@NRL) 2016年7月10日

This black is full flight is certainly an excellent photograph!
A video of this kitty's invasion has also been released!
Yep, it's a black cat on the field at a @PenrithPanthers game… #NRL #NRLPanthersSharks pic.twitter.com/IaiaSENiFr

— NRL (@NRL) 2016年7月10日

After all it was just a cat but this animals appearance during the middle of a professional match caused quite a commotion!
This black cat entered during a match between the "Penrith Panthers" and the Cronulla-Sutherland Sharksat the Panthers home stadium which is called Paper Stadium. As you can imagine from the team name, the Panthers players and fans were enthusiastic about this intrusion as the Panthers eventually won the game by a score of 26-10.
According to Panthers officials, this cat seems to have been living around the vicinity of the stadium for several years but had never attempted to enter the playing field of the stadium before!
This feline has seemingly become a famous online celebrity as a result of this escapade!
---
source:

twitter