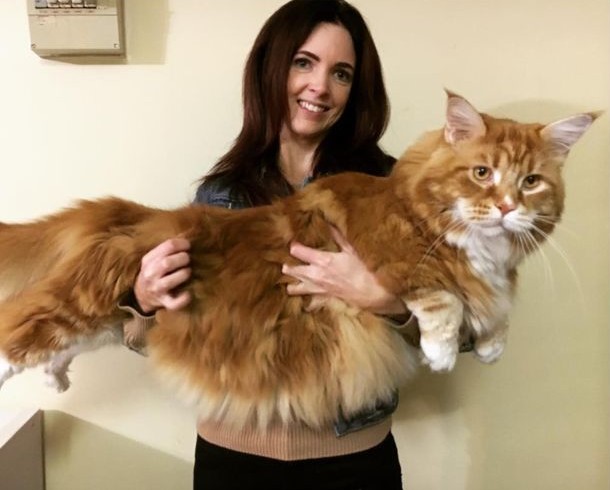 source: Instagram
Steffi lives with her cat named "Omar" in the city of Melbourne, Australia and this cat is huge!
As you can see, this is an extremely large cat and his amazing size has had him recognized as "The world's biggest house cat" and since his images have been posted on Instagram, it has become a big topic of discussion with online viewers everywhere!
Much more than the Guinness Book of Records!
The giant feline has been measured at 3.93 feet (about 1.19 meters) and with a weight of nearly 30.86 pounds or (about 13 kilograms) strong>!
"Omar's" height has become the biggest house cat registered in the Guinness Book of World Records!
▼ "Omar" is so much bigger than the dog that is living in the same house!

source: Instagram
▼ This cat can reach up with his paw and touch the kitchen counter!

source: Instagram
▼ Here is a scene with Omar playing around with a large bottle containing plenty of water can be dropped by margin.

source: Instagram
▼ This cat tower looks quite small when "Omar" is standing beside it.

source: Instagram
"Omar" continues to grow and actually gained 9 kilograms in the past year and his owner believes he will continue to grow more in the future!
What did you think?
I wonder if a lot of people may have just seen the biggest house cat in their lives! "Omar" and his owner are so cute together that is fitting that this big kitty is in the Guinness World Book of Records!
If you want to see more of "Omar", please click on the Instagram website link below.
Omar the Maine Coon (@omar_mainecoon) – Instagram
---
source:

Instagram
---