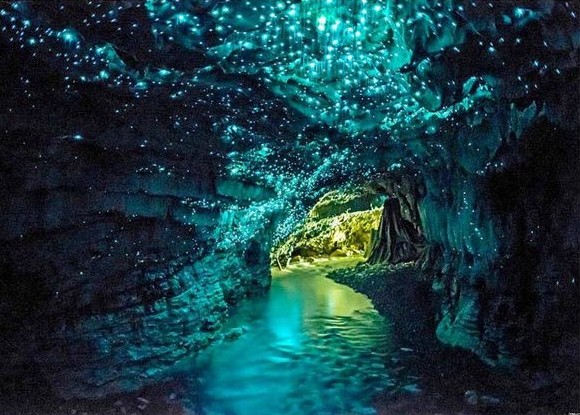 source: Instagram
Do you know about New Zealand's "Waitomo Caves"?
This cave is famous for the larvae "glow worms" which create pale unearthly light and creates a beauty that exceeds the imagination!
The popularity of this beautiful and scenic spot in New Zealand.
These remarkable photos were originally posted on Instagram and they have captured the imagination of viewers from around the world!

source: Instagram
The mucus of the glow worms has created these unusual and amazing shapes that looks like stylish chandeliers hanging from the ceiling!

source: Instagram
The pale luminescence of the glow worms casts a mysterious blue light within the caves!

source: Instagram
Even during daylight hours, the interior of these mysterious caves looks like a starry night-time sky.

source: Instagram

source: Instagram
The light emanating from the reflected light of the lake looks reddish!

source: Instagram

source: Instagram
These particular "glow worms" are from a species of "arachnocampa larvae", a valuable larvae that can not be seen only in the Southern Hemisphere and inhabit the Waitomo Caves in huge numbers! It is a sight that can only be seen in the Southern Hemisphere! Do you thinks it would be a romantic dating spot for couples?
A Boat Ride into the Mysterious Glowing Caves!
There is a local tour of these mysterious caves that contain the glow worms. The caves are only accessible by boat and the journey takes 45 minutes with tours with daily excursions that take place every 30 minutes during summer and winter hours.

source: Instagram
Exploring these magnificent caves would be a fantastic experience!

source: Instagram
Somehow, I really want to go to New Zealand and see this remarkable creation of nature and these amazing glow worms!
It seems that New Zealand has so many amazing tourist spots that has unique nature and scenery that can only be seen in this country!

source: Instagram
The Waitomo Caves.
Address: 39 Waitomo Caves Road, Waitomo New Zealand
Rates: Adults $48.00, Children $21.00
Hours: Summer – 9:00 to 17:30, Winter – 9:00 to 17:00
---
source:

Instagram
---