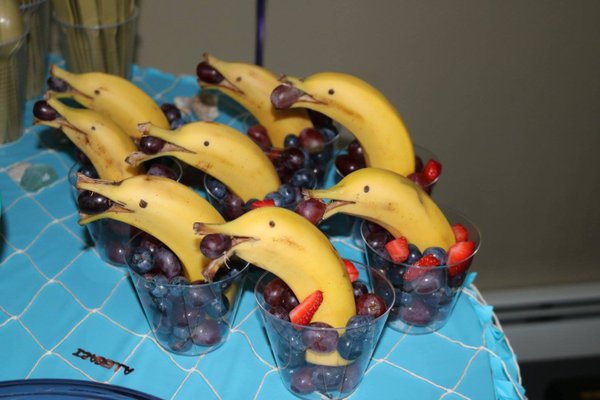 source: twitter
Please look at this delightful dancing dolphin! It's hard to believe but this graceful dolphin can be made easily with an ordinary banana! This Banana Dolphin is a decorative centerpiece for a series of delicious fruit desserts whose images were posted on Twitter recently!
A Big Topic on Twitter!
A Twitter user in New York City TrinityNYC @TrinityNYC introduced this topic and there was a terrific response from online viewers everywhere!
The "banana dolphin" were inspired by a 5-year-old child's birthday party and an acquaintance introduced the decorative dolphin that is really easy to make and looks so adorable! What a great idea!pic.twitter.com/2Qw85WmHrQ

— TrinityNYC (@TrinityNYC) 2016年5月15日

This "banana dolphin" is "TrinityNYC @TrinityNYC this Twitter user's creation!
This "banana dolphin" usually receives a warm and enthusiastic reaction from both adults and kids!
So many online viewers looked at this!
Like a Dolphin..
A Banana Ape…
To be Fit & Fine…
Eat Lovely Grapes… pic.twitter.com/XYhe0N70JC

— Hargovind Sachdev (@LALPUSHP) 2014年2月23日
My dad is so proud of this dolphin he made out of a banana and served with grapes! pic.twitter.com/t1nTVKTdjw

— Tori Eustace (@ToriEustace) 2014年3月21日
The kids' #bento #lunchboxes Today we tried the banana dolphin and grapes idea, even though our bananas are a bit soft! pic.twitter.com/VlWZjAsmZ1

— Shai Coggins (@shaicoggins) 2014年4月2日
This is too adorable.#Banana #Grapes #Dolphine pic.twitter.com/AhI2egCpvB

— Kim(@kimilogy) 2014年5月2日
A combination of cuteness and convenience, "The Banana Dolphin" should be tried by everyone who has children since they absolutely love it!
---
source:

twitter



---