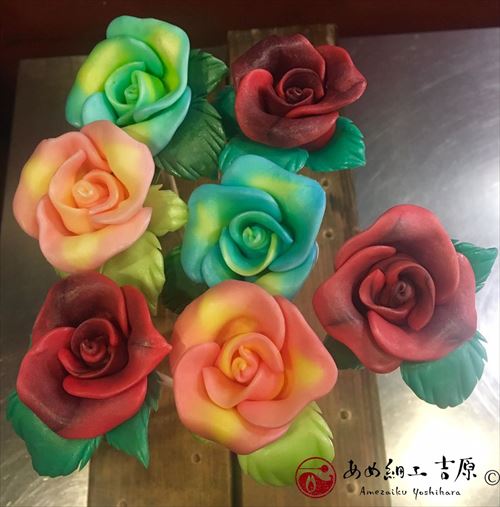 source: Twitter
The amazing quality of Japanese craftsmanship is evident in so many areas that have impressed foreign visitors for many years and one area that continues to grow in popularity is traditional Japanese confectionary candy making! In particular, there is a very famous shop in central Tokyo called "Amezaiku Yoshihara" that is worth the visit!
This shop is so popular that has been featured in many Japanese TV programs and magazines, is famous for making delicate, detailed and beautiful candy confectionary shapes like this colorful rose. Here are some examples of Japanese candy craftsmanship below.
Cherry Blossoms.

source: Instagram

source: Instagram
In the season of cherry blossoms, these are a popular gift for graduating students.
Carnations.

source: Instagram
The natural colouring is so delicate and realistic.
A Crane and Morning Glory.

source: Instagram
A beautiful bird in a natural setting.
Roses.
今年もホワイトデーまでの期間限定「グラデーションのバラ」の飴細工を作りました。
表面に着色することなく、飴を重ねて色を表現してあります。
ご予約も承っております!https://t.co/QJxent7x88 pic.twitter.com/4FwGEwxtgL

— あめ細工吉原 / Amezaiku (@ame_yoshihara) 2017年3月8日

source: Twitter
Such amazing detail!

source: Instagram
These transparent roses are so beautiful!
Pegasus.

source: Instagram
There is a feeling of dynamic movement captured in the candy's shape.
Goldfish.

source: Instagram
Both the colour and shape are amazing!
A Rubber Duck.

source: Instagram
How delightful!
A Shiba Inu Dog.

source: Instagram
This popular Japanese dog breed is adorable!

source: Instagram
Too cute to eat?
Cats.

source: Instagram
Cute cat candies!
What did you think?
Visiting this shop is a visual delight of classic candy confectionaries!
---
source:

Twitter

/

Instagram
---