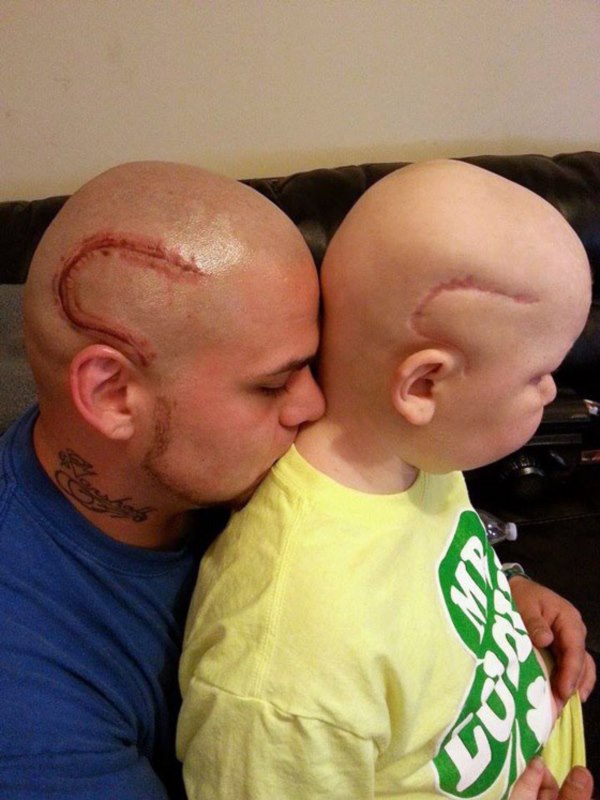 source: stbaldricks.org
Here is an usual photograph of a father and his son who both seem to have the same shape of scar on their scalps! "Josh Marshall" and his son "Gabriel" are shown in this photo. "Gabriel" recently had successful surgery to remove a cancerous tumor from his brain which left a prominent scar on his scalp so Josh wanted to express his solidarity and support for his son by getting a tattoo that perfectly matched his son's scar!
A father's love.
Gabriel experienced a difficult period of chemotherapy prior to the surgery which left him bald so the surgical scar was very conspicuous and made the young boy very self-conscious.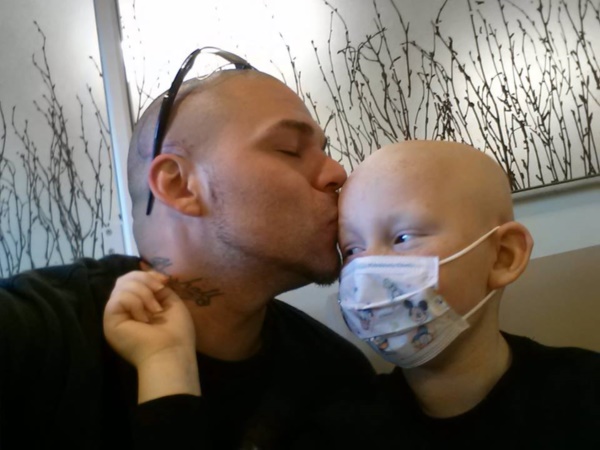 source: facebook
"Josh" decided to have the same tattoo as "Gabriel" so the child would feel less self-confident and more enthusiastic after the trauma of his surgery.
A charity organization for children suffering from cancer.St. Baldricks Foundation Sponsored by Bald Parents Contest He decided to enter this contest as a way to express his love and support for "Gabriel"! His expression of love impressed a lot of people worldwide who became aware of their story.
This story was picked up by various news media from all over the world and was even featured on ABC news in the United States.
Please take a look and watch the extended video below.
See Video Here
This act of kindness helped "Gabriel" recover from the trauma of his treatment and surgery seemed to be able to regain confidence when going out in public!
What did you think/
The kindness of this father really had a big impact on "Gabriel" who continues to improve and feel better each and every day going forward. Josh really is a fantastic father!
---
source:

stbaldricks.org

/

facebook

/

abcnews.go.com
---