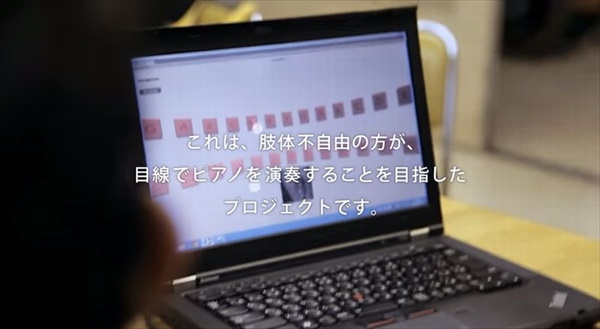 Here is a photo of a universal piano system called "Eye Play the Piano" which allows children with physical disabilities the opportunity to make music without touching a piano keyboard!
Eye Play the Piano Project.
"Eye Play the Piano" usea a head-mounted display "FOVE" equipped with the eye-tracking function, it is a universal piano system that is capable of playing music without the use of hands and arms while utilizing eye movement.
aource: Just Giving
Until now, it was believed that people (especially children) with physical disabilities would never be able to play the piano but this wonderful project that can broaden the horizons of children and people everywhere!
Kota Numajiri of Tsukuba University is a 17-year-old student and is also one of the developers of the "Eye Play the Piano" project. Here is a video of a Christmas concert in which he performs in after almost four months of practice with "Eye Play the Piano"
See Video Here
A spokesman and developer of the FOVE technology comments on the following:
"Eye Play the Piano"  is a project of collaboration between Tsukuba University and schools for students with special needs in Japan. The unique head mounting technology of FOVE's eye-tracking screen mechanism would people who have special needs, the chance to learn and play music for the first time in their lives! Initial crowdfunding has initiated a nationwide project involving 135 schools (and 334 school departments) in which children with special needs will have the opportunity to learn and play the piano with the FOVE "Eye Play the Piano" piano technology!
source: Just Giving
I hope that a lot of people from this "Eye Play the Piano" will grow and expand so that children all over the world will have the dream of music in their future!
---
source: Just Giving
source: FOVE
---