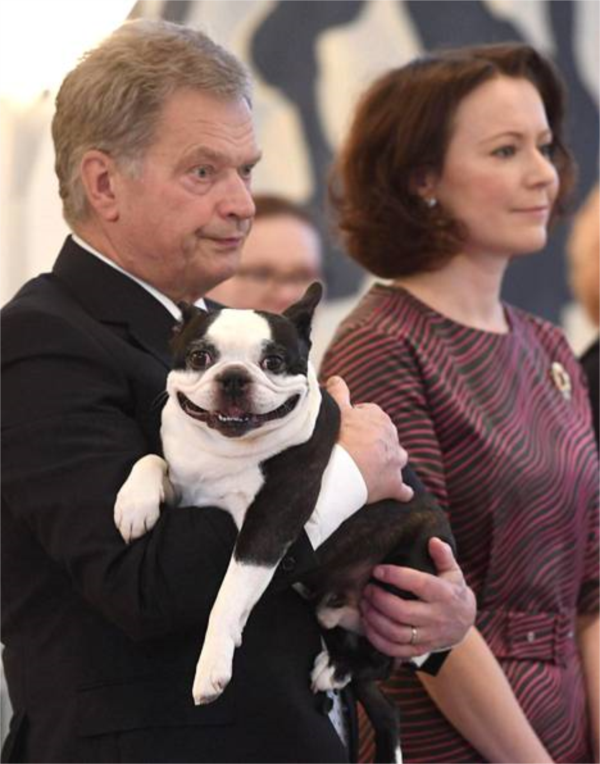 source: twitter
Do you know this dog? His name is "Rennes" and he is the pet of the President of Finland whose name is "Sauli Niinistö"! This adorable pooch often appears with the president in the public events and photographs of the dog has become an unexpected hit on social media and with online viewers from all over the world!
Is this Boston Terrier more popular than the President of Finland?
This tweet by a fan of "Rennes" became popular with people around the world!
Excuse me but are you aware of Rennes, the Finnish president's dog? pic.twitter.com/sBVSOiExw6

— Kelly Weill (@KELLYWEILL) 2017年2月22日

Does anyone know about Rennes?
Those tweets have viewed by close to 140,000 online viewers who just love the charm and personality of this canine!
Crazy for tweets about Rennes!
In other news, The Finnish President's dog Lennu is 1000x more presidential than our soulless circus peanut. pic.twitter.com/7mh5Dw19yF

— Shannon DeVido (@shannondevido) 2017年2月22日

The President of Finland's dog "Rennes" seems to be 1000 times more popular than the president himself!
ever since seeing that tweet earlier I can't stop looking at pictures of Sauli Niinistö's dog ffs pic.twitter.com/bdTCjYTlKJ

— minna helena (@minna_helena) 2017年2月22日
What did you think?
Since I saw Renne's tweets and photos, I can't stop looking at this cute Boston Terrier!
This dog could be one of the most popular pets in the world right now!
---
source:

twitter

/

yle.fi



---