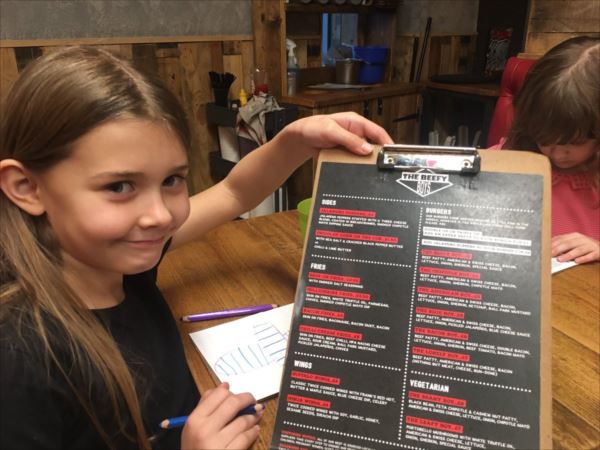 source: twitter
Here is a 7-year-old girl named "Chloe" who wrote a letter to Google's president and actually received a direct reply from Google CEO "Sundar Pichai" that became a huge topic of discussion with online viewers from around the world!
"Chloe" is the daughter of Andrew Bridgewater" and her father told her that he was interested in
working at Google at some point in the future so she decided to write a letter directly to the CEO of Google "Sundar Pichai"! To her and her father's amazement, she received a direct reply from the Google CEO which she later published online.
A Letter from Google's CEO.
Here are the contents of the letter from the CEO, you can see that "Chloe's" letter had been read by him and his reply has been sent directly to her.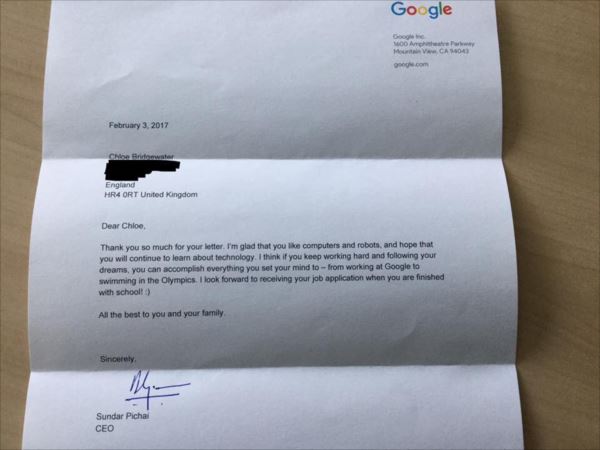 source: twitter
Thank you for your letter. I am glad that you like computers and robots. And I hope to continue learning about technology. If you do your best and keep on chasing your dream, you can accomplish anything that you put your mind to, either working at Google or swimming in the Olympics. After graduating from school, I am looking forward to your application! 🙂 All the best to you and your family.
Chloe wrote a variety of things besides "I want to work with Google". She commented that "I'm thinking about going to the Olympics in the future in swimming", "I am interested in computers and robots", "I like bead cushions, slides, and the go-karts in Google's company are attractive". Lastly, she commented that, "in school, she has been told that her calculation skills are good". etc.
This letter that wrote up to such things that I do not usually write much has stayed in the eyes of CEO "Sundar Pichai" and got direct reply!
This news created a huge buzz all over the world and her story was picked up by major news media outlets! , and "Chloe" became famous all over the world and became known as "Googlegirl"!
What did you think?
It is important to activate your dreams just like "Chloe" did with her letter to Google. It's important to remember to always believe that dreams do actually come true!
---
source:

twitter

/

bbc.com



---