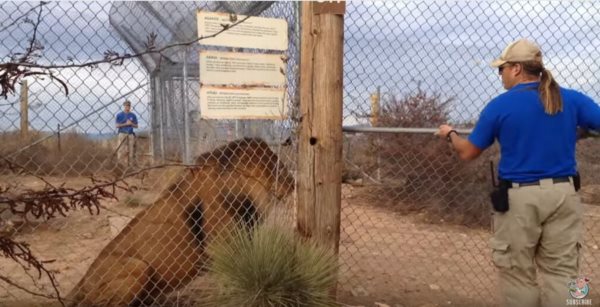 source: YouTube
These frightening photographs were taken at the "Out of Africa Wildlife Park" which is located in the state of Arizona in the United States.
This facility allows visitors to enjoy seeing various exotic animals from around the world up close and the facility staff are professionally trained and quite familiar with the animals on site. In this scene, a facility staff member opens the gate of the lion enclosure while a large male adult lion lounges nearby. The staff member is carrying a stick and everything seems perfectly normal when the lion suddenly leaps in and attacks the facility staff member!
The facility staff member reacts calmly to being almost bitten by a lion!
The long stick proves to be insufficient protection for this man who is genuinely surprised when the lion lunges in and bites him!
The head of the adult male lion is so huge!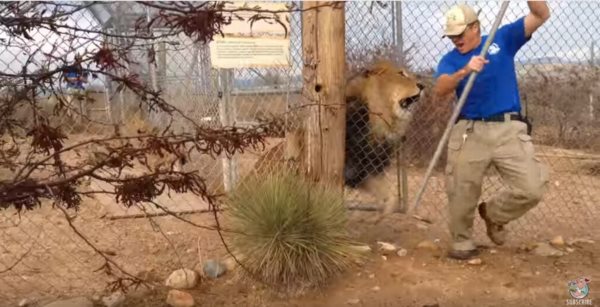 source: YouTube
There is a fence between the man and the lion but this scene looks frightening nonetheless!
Wow! That was so close to being a life-threatening attack on this employee!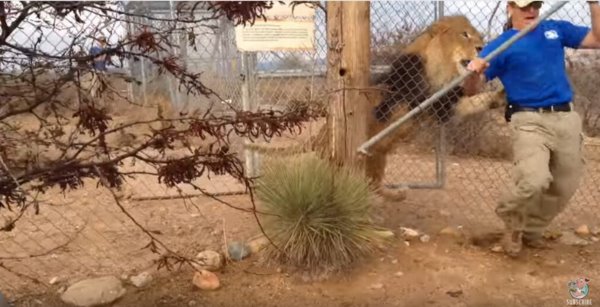 source: YouTube
What did you think?
The lion doesn't appear to be angry but even experienced professionals can underestimate wild animals!
Please take a look and watch the extended video below.
See Video Here
It's important to always be ready for anything when opening the cage of a large lion!
---
source:

youtube



---