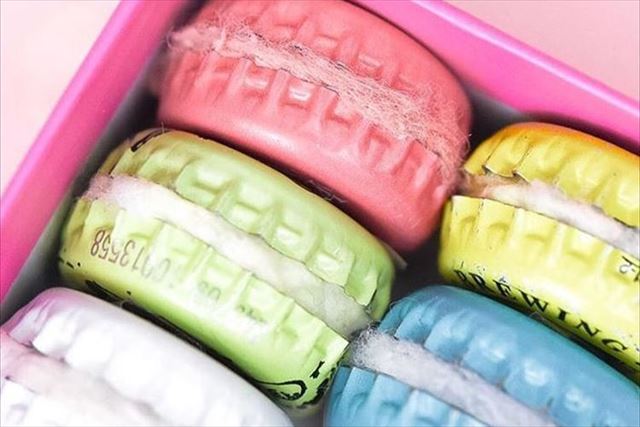 source: instagram
Here are some delightful and delicious images of some colorful macaroons that appear to be the shape of a beer cap?!
This unique design was created by an American graphic designer named Kristina Lechner and was posted on her Instagram account. She has developed a series of food images with unique design themes called "Food not food"!
Pasta.

source: instagram
Looking at the photo images of the pasta here, the individual noodles are modeled on the laces of sneakers!
Pancake.

source: instagram
This pancake is created with colorful cup coasters with butter made of glue adhesive and syrup reproduced with shower gel. What an ingenuous design!
Tortilla Chips.

source: instagram
Placing bubble wrap on top of pieces of colored paper which gives the chips a natural uneven look that is visually delightful!
Popcorn.

source: instagram
This popcorn is a simple creation by rolling up individual pieces of post-it papers!
Sandwich.

source: instagram
This sandwich is made from various kitchen utensils! The Bread is a sponge, the cheese is a napkin, the lettuce is made of rubber gloves and the tomato is a lid of a container! What a cool concept!
Sandwich 2.

source: instagram
Here are all sandwiches are made of beach supplies. The bread are beach sandals, the lettuce is a towel, the tomato and the cheese are beach balls and the turkey is a hat. The images are fascinating!
Champagne.

source: instagram
Hand soap is disguised here as champagne! Please don't drink this!
Pumpkin Pie.

source: instagram
The pumpkin pie is actually melted crayons inside a beer cap.
An Oreo Cookie.

source: instagram
Combining pieces of a board game with glue creates an Oreo cookie!
French Toast.

source: instagram
Sprinkle baby powder powder sugar on the sponge bread painted with eye shadow, hang with hand soup syrup, finished French toast! It is! Drooling comes out even if I understand it is a creature …
What did you think?
Kristine's innovative visual style and use of various materials is really interesting and creative! You can see her other works at her Instagram account so please take a look!
Kristina Lechner (@kristinalechner) Instagram
---
source:

instagram
---