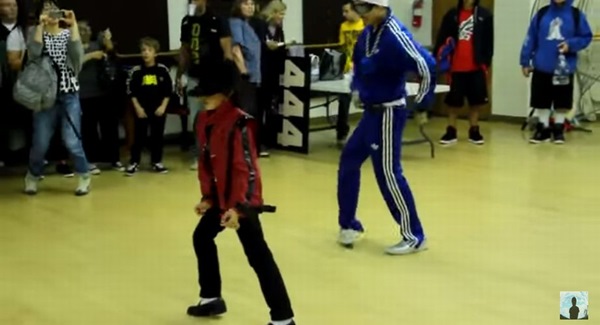 There are many dancing videos of dancers mimicking the moves of Michael Jackson, but the dancing of this boy is quite amazing nonetheless! Please take a look at this video!
The name of this boy is Hidetaro Kurauchi (8 years old at the time) and he was selected from among 1000 dancers for an an audition of Michael's dancing moves. He is shown in the above photo! Please watch the amazing video! By the way the blue jersey of the person at the back is Kent Mori, who is another famous dancer.
See Video Here
Here is a video of Michael Jackson's memorial tour performances.
On Sunday June 26th, 2011 at the Michael Jackson Auditorium of the Gardner Street School in Hollywood, Hideotaro-kun participated in a videotaped dance performance of young people celebrating the songs and dance moves of Michael Jackson.
source: dreamscometours.com
See Video Here
On Sunday afternoon , June 26th, 2011 in front of the gates of Michael Jackson's home, Neverland, Hidetaro-kun performs with many people watching his amazing dancing performance.
source: Dreamscometours.com
See Video Here
See Video Here
Hidetaro-kun should be a student in junior high school at this time but clearly has the talent and potential to pursue a career in dance!
---
source:

YouTube


source:

dreamscometours.com
---