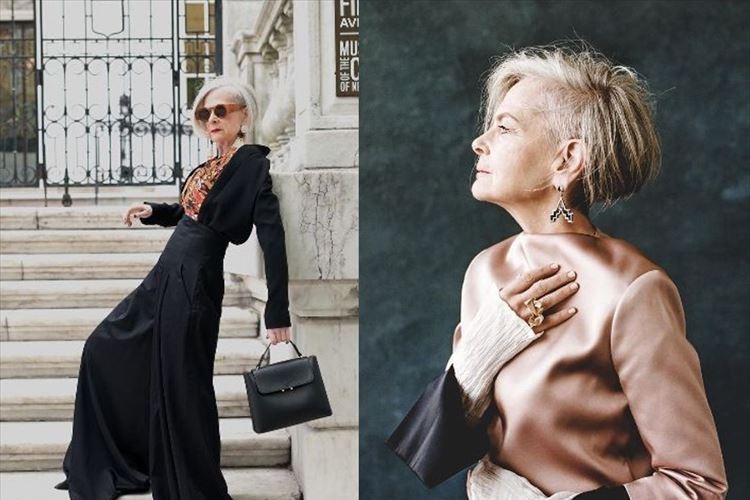 source: instagram
Here are some gorgeous images of a 63-year-old university professor who is also a fashion model! Her story and fashionable images has become a big topic of discussion with online viewers since they were posted recently on Instagram!
Her name is Lynn Slater and she is a professor at a prestigious private university located in the state of New York in the United States. She is also active as a fashion model despite the fact that she is over 60 years old!
Here is Lynn Slater's Instagram account and there are many spectacular images of her modeling amazing clothes from the world's top designers.

source: instagram

source: instagram
A misunderstanding as a model!
Lynn Slater's career as a fashion model began due to a misunderstanding one day when she was having lunch at the Lincoln Center in New York City. It seems that some journalists and press photographers mistook her for someone famous and surrounded her table and started taking photographs!
It is kind of like a movie or a drama. The journalists were visiting the United States for a new clothing presentation event being held in New York. She had become famous by accident and was called the "Accidental Icon" by the media.

source: instagram
At that time, I was wearing Yohji Yamamoto's clothes.
When Lynn Slater was caught by journalists, she says that she was wearing famous Japanese fashion designer Yohji Yamamoto's clothes. Afterwards, she was signed to a modeling contract with Elite · London which is one of the world's leading model companies.
Later, Yohji Yamamoto wrote a word of tribute on her website and commented that "A woman immersed in work is more tempting" "her presence itself is more beautiful than a gorgeous silk gown."

source: instagram

source: instagram

source: instagram
What did you think?
Lynn Slater continues to teache as a clinical associate professor in the Faculty of Social Welfare at a private university. In addition, she continues to be involved in the fashion industry as a model and fashion icon!
For more details on her modeling and fashion career, please take a look at her Instagram account and official website.
Instagram
Accidental Icon Official Website
---
source:

instagram

/

accidentalicon
---