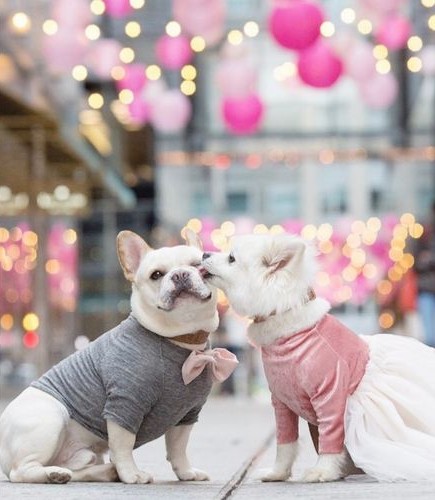 source: Instagram
Here is a lovely image of a cute looking canine couple of a French bulldog named Sebastian and a Pomeranian named Luna. The Instagram account of this couple who are currently living in Washington, D.C. in the United States has become a hot topic of discussion with online viewers now! With, the number of followers at over 67,000 people and growing everyday!
Here are some lovely images of Sebastian and Luna!
A friendly and cuddly couple.

source: Instagram
These two different breeds look surprisingly similar to each other!
A happy couple posing for a photo.

source: Instagram
You can clearly see that these animals are really fond of each other!
Two paws touching is so romantic!

source: Instagram
A romantic photo and happy expression for the camera!
A lying embrace before taking a nap together!

source: Instagram
It feels nice to have Sebastian protecting Luna.
▼ Here is a short video of the pair sleeping together.

source: Instagram
I can feel the affection of Sebastian for Luna who is sleeping.
Engaged to be married!
I hope that Sebastian and Luna will be healthy and happy together forever!
According to overseas media who covered this story, it seems that it was truly love at first sight for this canine couple!
Sebastian and Luna were engaged to be married in June 2016!
▼ Here is the engagement picture! What an adorable couple!

source: Instagram
There will be a wedding ceremony for the two dogs in either 2017 or 2018 and any proceeds or donations will be given to an animal rights protection group! For more images of the couple, please go and check their Instagram account!
@sebastianlovesluna – Instagram
---
source:

Instagram
---