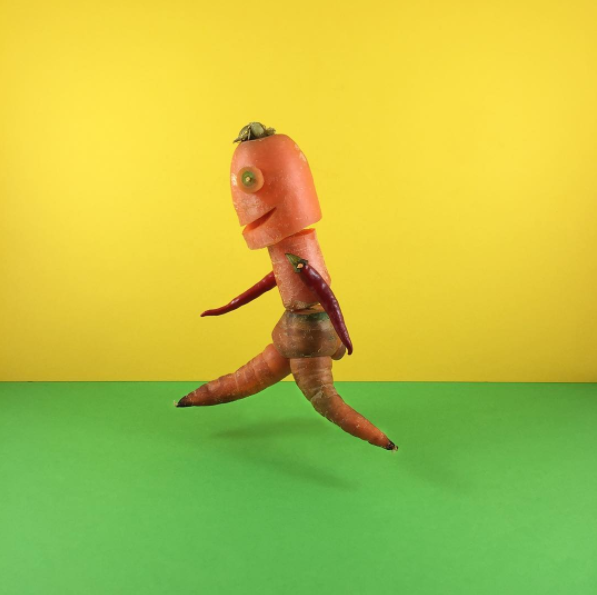 source: Instagram
Is this food or an unusual type of art?
There are many kinds of beautiful food art that exists today in the world. However, a Chinese artist based in Sydney, Australia named Danling Xiao has created a new and unique type of art that utilizes leftover or inedible food that would normally be thrown away as garbage! These artistic creations have quickly become very popular with online viewers from all around the world and a big topic of discussion!
Inedible mushrooms in an attractive shape with personality!

source: Instagram
Is this is a moldy apple bonsai?

source: Instagram
Here are some various discarded vegetables transformed into a gorgeous bouquet!

source: Instagram
A moldy potato becomes the platform for a surreal landscape scene!

source: Instagram
It's a vegetable eating monster vegetable!

source: Instagram
Two rotten kiwi fruits are watching you!

source: Instagram
An odd-shaped vegetable is transformed into a cute cat character!

source: Instagram
Assorted vegetable pieces become a beautiful swimming fish!

source: Instagram
Where is the body for these dried vegetable legs!

source: Instagram
What did you think?
There are a lot of cute characters and eccentric shapes that seem to have a inner spirit that is such a delight to look at! The shriveled fruits and vegetables really do seem to have human qualities of aging and character that is quite unusual!
For many works from this talented artist, please visit Danling Xiao's SNS website links below!
Danling Xiao's Flipnote.
Instagram
twitter
---
source:

Instagram



---