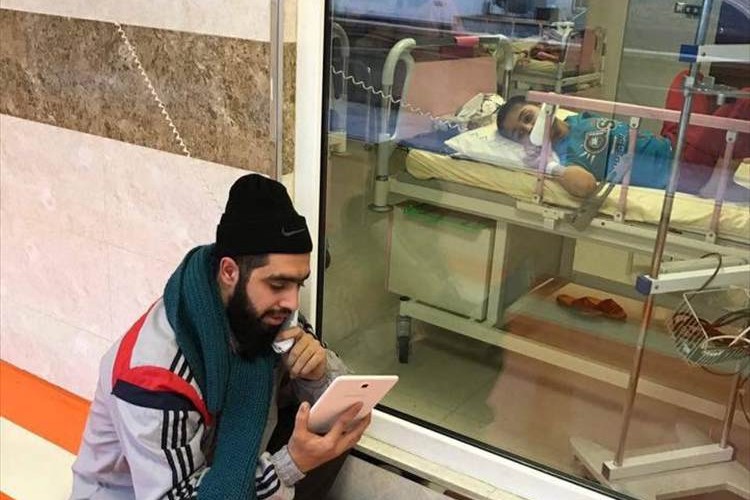 source: www.facebook.com
"I learned what a person should be and to help my students in any way I can."
Here is a heartwarming and inspirational story about a teacher living in Iran who has been visiting students who are fighting cancer in hospital as a way to be a better person and a better teacher! This story was posted on various overseas bulletin boards and social media networking websites and attracted the attention of online viewers from all over the world!
Here is the teacher visiting a student who is undergoing treatment for cancer in hospital and he is unable to go inside. The teacher sits outside the student's hospital room and attempts to tutor him by speaking on the telephone and using a computer tablet! The teacher visits the hospital every day to tutor the student on his school studies! It is such a remarkable gesture of caring and compassion for this teacher to do this! This amazing story was posted on the Facebook page of 'AIM Islam' which attempts to provide such information for Muslims all around the world.

source: www.facebook.com
The teacher isn't allowed to enter the room due to the risk of infection while the student is undergoing this cancer treatment so the teacher has adapted by using a telephone and tablet to convey information and provide ongoing supplementary lessons is quite remarkable!
Many reactions from online viewers all over the world.
This story has received praise and acclaim from people everywhere who were truly touched to learn about such devotion to this stricken student by his teacher!
I think that the daily visits of this teacher would certain encourage this student and I wish him a full recovery and a long and healthy life in the future!
---
source:

www.facebook.com
---