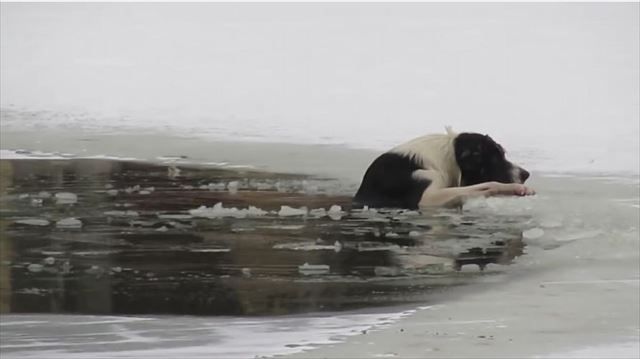 source: YouTube
Here are some exciting video images of a dramatic winter rescue of a dog who had fallen into a frozen pond and was unable to get out until he was assisted by the courageous efforts of Russian man who helped pull the canine to safety!
This incident took place in a town in the state of Kostroma in Russia on November 7, 2016 and it is clear to see that this area was suffering from heavy snow and subzero temperatures which had caused the surface of the pond to freeze over.
A dramatic rescue in the extremely cold conditions!
Although most of the surface of the pond had been frozen over, this dog had somehow chosen a route in which the ice collapsed under the animals weight as shown in the image.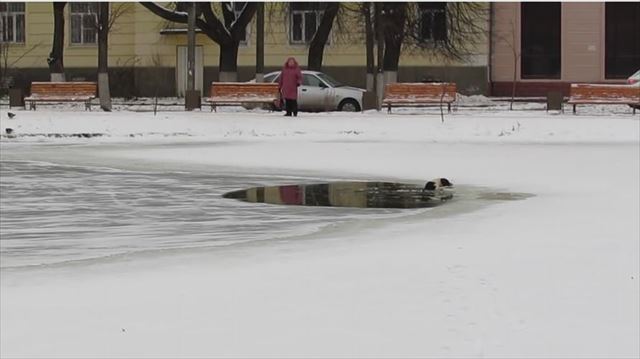 source: YouTube
As the dog struggled to escape the subzero temperatures of the water of the pond, the icy conditions prevented the animal from climbing out of the water!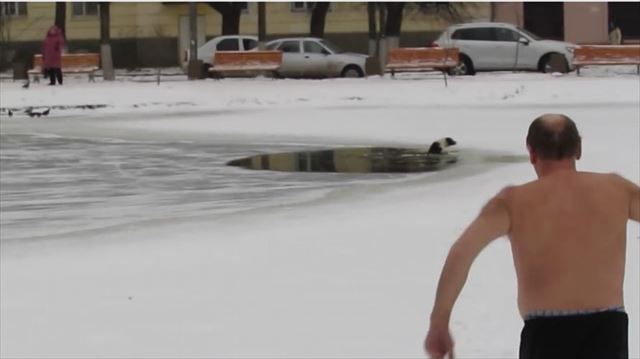 source: YouTube
Suddenly, a man enters into the scene and heads straight for the dog. Although, the temperature is extremely cold on this day, this man is not wearing a shirt or winter coat for some reason!
Other people watching this situation appeared to quite surprised by this strangely dressed man and some laughter is heard in the background!

source: YouTube
As the man moves closer to the trapped animal, the man lies down on the frozen ice and stretches out his arms to try to grab hold of the dog!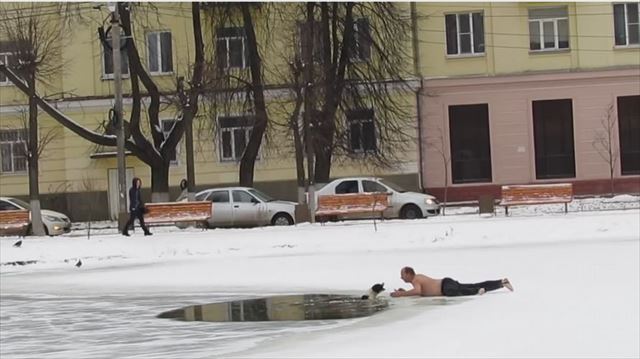 source: YouTube
However, the dog doesn't seem to be cooperating in this rescue attempt and continues to bite and bark loudly at the man!
This rescue is becoming desperate and the man and dog continue to struggle with each other and several attempts to grab the dog out the water fails!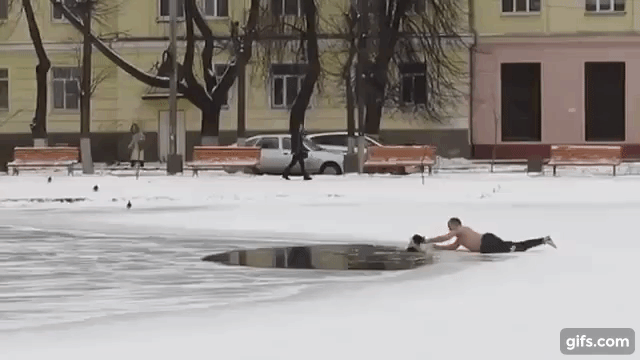 source: YouTube
The man decides to adjust his strategy and edges closer to the dog. Finally, he is able to get a good grip on the animal's fur and pulls the pooch out of the water and to safety!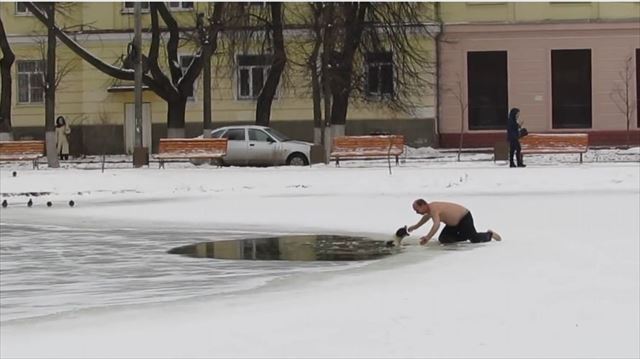 source: YouTube
Both human and animal walk slowly across the surface of the pond and the crisis has come to an end!s

source: YouTube
People who were watching the scene are also relieved that the rescue was successful.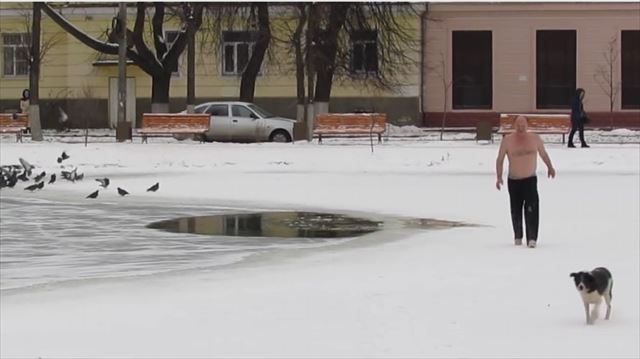 source: YouTube
Please take a look and watch the extended video below.
See Video Here
source: YouTube
What did you think?
This was a heroic rescue by this man as he put his own life in danger by walking out to the thin ice and pull the dog to safety! It is said many Russians are very strong against cold and icy conditions so that is maybe why this man wasn't wearing a shirt and coat!
---
source:

YouTube
---