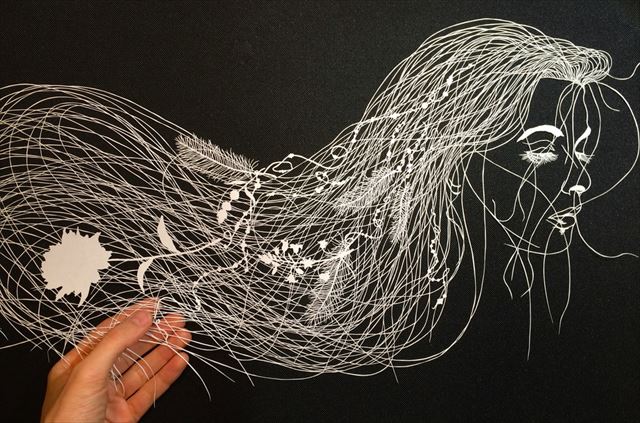 source: bravebirdpaperart.com
This amazing artwork is created making cuts on a piece of ordinary paper and these "cutting masterpieces" have been created by Maude White, a cutting artist from Canada who currently lives in New York City. Please take a look at these amazing paper cut artworks!
The strength and delicacy of paper.
Maude White was born and raised in the home of a video artist so her artwork has a visual vibrancy which she has combined with the strength and delicacy of paperwork to create new form of artistic expression.

source: Instagram
Please see the intricate work of this talented artist below.
Animation.

source: Instagram
This artist makes hundreds of small and delicate cuts at the micro level and requires high concentration and dexterity.
The next picture is a work in progress. The woman's hair is created by the artist using her unique cutting technique.

source: Instagram
Every single hair has been created by the artist's cuttings!
Some wonderful artwork from Maude White.
Here are some of her completed works.
Crow.

source: Instagram
The delicate feature of the bird's feathers which is interwoven into the woman's hair is amazing!
Female Part 1.

source: Instagram
It seems like the hair is tied up and has a three dimensional effect!
Female Part 2.

source: Instagram
Light is able to penetrate the paper creating shadows and a unique lighting on her cutting creations as shown here.
Woman and a bird's nest.

source: Instagram
A bird's nest on the top of a lady's hat! Notice how the female hair and the bird's nest are interconnected and flow into each other!
Swan.

source: Instagram
The swan's body pattern is so finely cut that the paper cuts almost seem to have texture!
Eagle.

source: Instagram
There is a three-dimensional with this particular piece.
Seahorse.

source: Instagram
The female hair and the expulsion of water from the mouth of the seahorse are
This intricate artwork is truly magnificent and the attention to detail is fantastic! Please take a look at Maude White's Instagram account and official website for more incredible works of cutting art!
Maude White (@maude_alta) • Instagram Photos and Videos
---
source:

bravebirdpaperart.com

/

Instagram
---