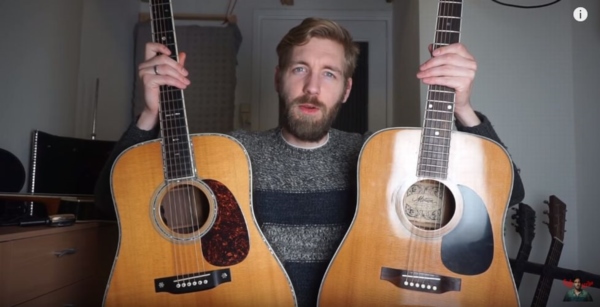 source: YouTube
Here are two guitars. One is a low-priced model that costs USD $150.00 dollars while the other one is a high quality luxury model that is priced at USD $5,000.00 dollars. Could you tell the difference between these two guitars based on the sound alone? Here is an interesting test that you can try which gives you the opportunity to select which guitar is played in the following songs! Good Luck!
Let's See If You Can Recognize Which Guitar is Being Used!
These two guitars are in the same song and are divided in tracks A and B. Can you tell which guitar is being played by the sound or tone?
1st Track – "John Mayer – Who Says".

---
A
B
Could you choose correctly?
2nd Track – "Beatles – Here Comes The Sun".

---
A
B
It's the Beatles classic "Here Comes The Sun".
3rd Track – "Bluegrass Lick".

---
A
B
Could you hear the difference?
4th Track – "Ed Sheehan – I See Fire".

---
A
B
Does this person use the expensive guitar or the low-priced one?
5th Track – "Avicii – Wake me Up".

---
A
B
Can hear the difference of the guitars?
6th Track – "Coldplay – Fix You".

---
A
B
How did you do? Here are the correct answers below.
The luxury guitar is the "Martin D-42" and is priced at around USD $5,000.00 dollars! It is a well-made and popular model of guitar for professional musicians!
Since I am not a musician, I found this quiz to be very difficult and it was hard for me to tell which guitar was being used!
---
source:

youtube



---