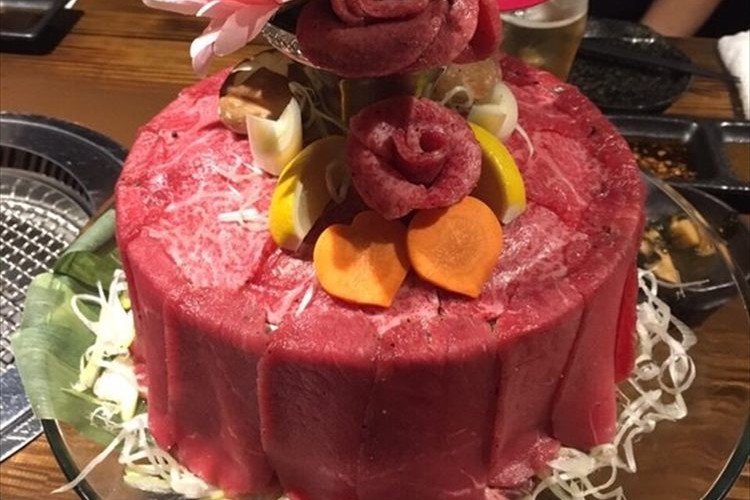 source: twitter.com
Here is an unusual "ready-to-eat raw meat cake" that is becoming a more and more popular way of celebrating a birthday for meat lovers!
Meat cake from the date of the meat! pic.twitter.com/E8CMjYT7SS

— ブラックホールと島津の肉アカ (@iloveyakiniku) 6/29/2015

source: twitter.com
肉ケーキ。イクゾー pic.twitter.com/EBn6w9e3Q6

— とんつう.bot  (@tontsu_yakiniku) 2015, 1月 24

source: twitter.com
A friend's birthday meat cake ready for a Korean barbecue! pic.twitter.com/CGVEg7ZboJ

— momo♡ (@momoxminnie) 10/20/2015

source: twitter.com
Recently, these unusual raw meat cakes have become a popular alternative for those who would like to try something different from the traditional sweet birthday cake. These selected raw meats are selected beforehand and presented to the person celebrating their respective birthdays which are then grilled for a birthday dinner!
These ready-to-eat raw cakes have attracted a lot of attention on various social media networks (SNS) in Japan!
These selected meats are shaped like a traditional cake to attract attention and they look fascinating!
肉ケーキやば!こんなの幸せ過ぎる!!! pic.twitter.com/GSEp9gLwQV

— ゆうと (@1215yuto) 2015, 11月 3

source: twitter.com
This new style of birthday cake just might become more popular with people who would like an alternative on the traditional sweet cake usually served on birthdays!
---
source:

www.agrinews.co.jp
---