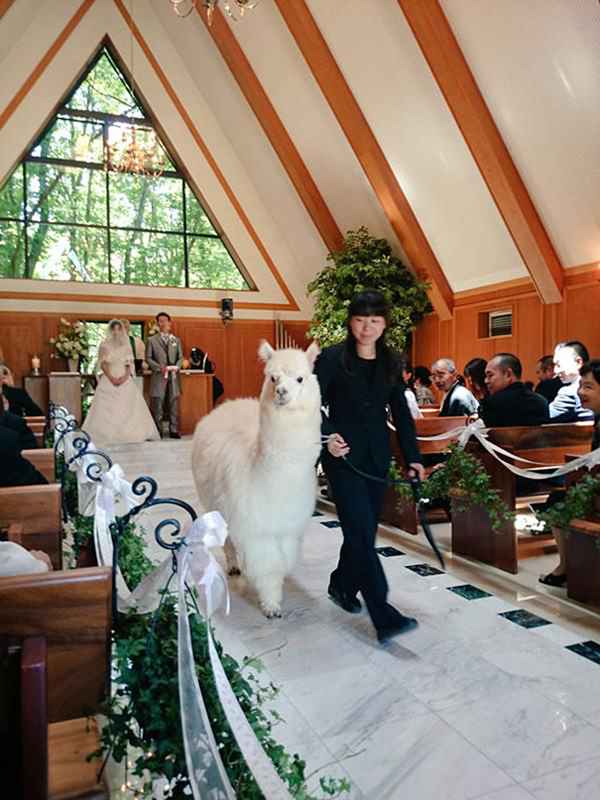 The appearance of an Alpaca as a "ringbearer" for a wedding ceremony between two people stirred up a lot of reaction among viewers online.
It even became a topic on Twitter!
A cousin of a wedding in Nasu was an Alpaca was very cute. Pic.Twitter.Com/OSHJSK99RB – "Loose Cat Life" Aya Hosoi Sale (@ hosoi) 2015, July 11
The "Alpaca Ring Boy" in the wedding ceremony of Nasu seems to have emerged online!
An Alpaca at a wedding is truly amazing and awesome.. Pic.Twitter.Com/fAASU7fFjK

– Genshi (@ nines_graphics) 2015, May 24

The presence of an animal is excellent!!
I saw an Alpaca to the wedding! Ze WAS Moffumofu Pic.Twitter.Com/JYr0rnUkGB

– Fujiyama (@ Tuyokora) 2014, August 24

Moffumofu!
♡ The bride wanted a really nice wedding and requested an alpaca to attend the wedding in some capacity. The Alpaca was too cute and its presence in the ceremony created a strange sense of intimacy because it is said (¯ ▽ ¯) smile Pic.Twitter.Com/iSKCSLsY9g

– Candy-xoxo … (@ Candyknight123) 2014, June 14

Cute! Stand-up comedian like a butterfly are tie!
The wedding was held at the Hotel Epinard Nasu in Tochigi Prefecture. There is an  Alpaca Ranch near this Hotel and the animals can be rented from there.
What did you think?
---
Source:

Boredpanda


Source:

Rocketnews24


Source:

Twitter
---