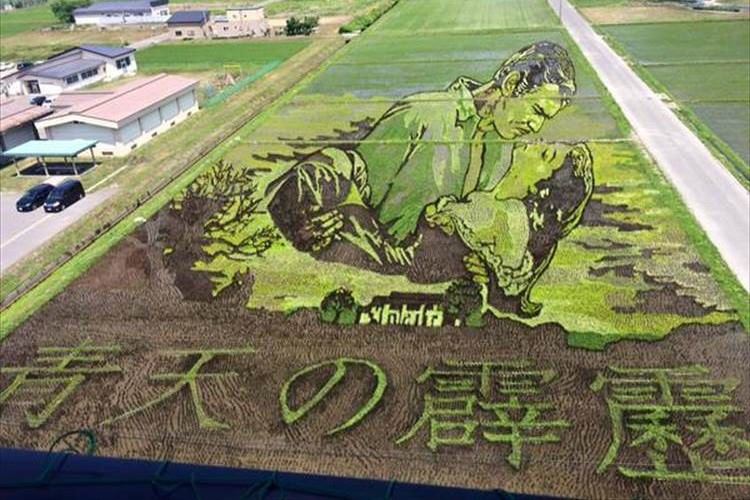 source: Twitter
It has become an annual event in Inakadate City, Aomori Prefecture to create "rice field art". Several types of rice with different colours are used to outline huge pictures in the fields. The large scale creations and the overwhelming impact of the visual artistry has become a hot topic around Twitter and other social media networks.
青森県で毎年恒例の「田んぼアート」。今年は風と共に去りぬとスターウォーズでしたね!いや、、、すごい、、、どうやったらこんな緻密な絵柄を「植えられる」んでしょう!アクセスなどはこちら→ http://t.co/nanzyloxU3 pic.twitter.com/0Zcis8IXGT

— 鴻巣友季子 (@yukikonosu) June 22, 2015
The annual "Tambo Art" Festival in Aomori Prefecture selected "Gone with the Wind" and "Star Wars" this year! These amazing scenes are "planted" to create this kind of dense picture!
This year's Theme is "Gone with the Wind" and "Star Wars".
"Gone with the Wind" rice field picture features the scene of the famous movie poster of Rhett Butler embracing Scarlett O'Hara.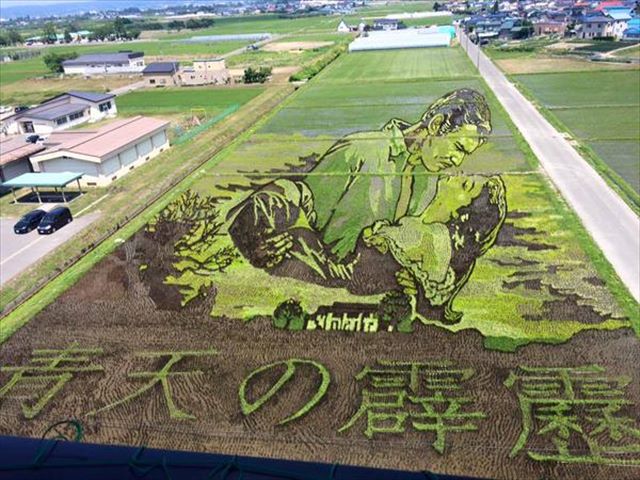 source: Twitter
Meanwhile, "Star Wars" is said to feature the characters of the latest movie appear in the "Star Wars, The Force Awakens" which was released in December 2015 and features the characters of "BB-8", "R2-D2",  and "C-3PO" as the images used for the rice field pictures.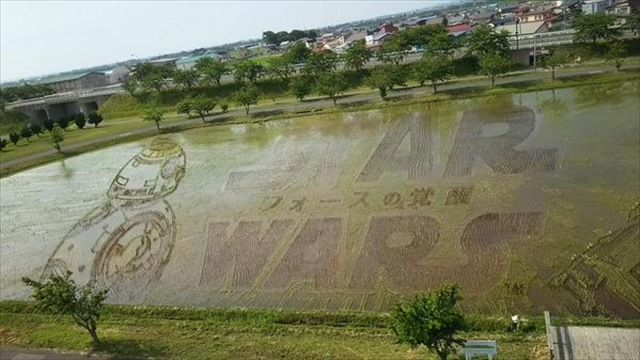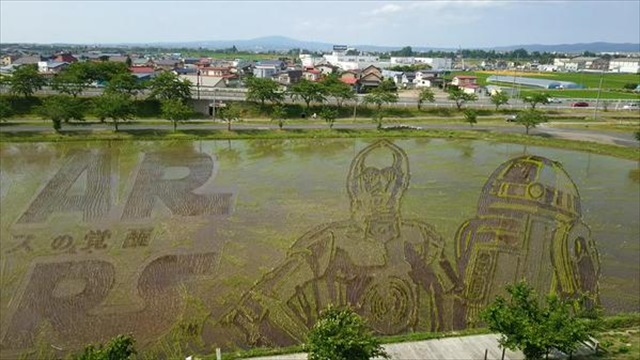 source: Twitter
"Star Wars, The Force Awakens" has become a major overseas hit since its opening last December and the synergies should expand the overseas media promotion of "rice field art".
"Gone with the Wind" uses 11 different kinds/colours of rice and "Star Wars" uses 7 kinds/colours of rice in its design. The best time to see these vibrant colours is around mid-July, but it is also recommended to see in the fall when it becomes a golden colour during the harvest season. It is unique natural art!

Opportunity for the Revitalization of the Town.
The development of "rice field art" would help to revitalize the town and region through increasing domestic and overseas tourism and learning new planting techniques and technology. Here are some recent some examples of rice field artwork.
source: www.aptinet.jp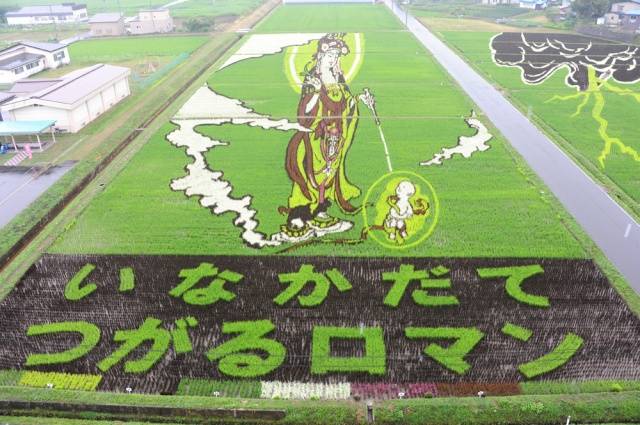 ---
source:

www.vill.inakadate.lg.jp


source:

www.aptinet.jp
---