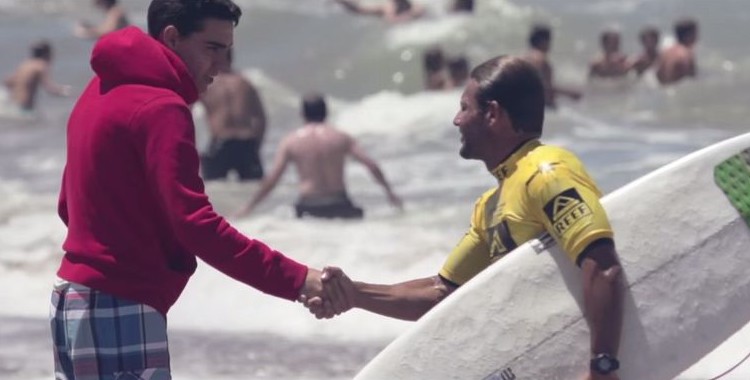 Article provided by: [WAVAL (weibaru)] surf media to cause a wave of buzz
Martin Parsley is a professional surfer and 5-time Argentina surfing champion. Recently, at a professional surfing competition, he carried a paralyzed man on his back so the man could realize his dream of riding a big wave. This surprising and controversial action created a lot of discussion online with people from all over the world.
His name is Nicholas Gallegos who lost the use of his legs and was paralyzed from the waist down after an accident at the age of 18. Nicholas had had a dream of "riding a big wave". His dream was about to come true.
Martin saw Nicholas in the crowd in a wheelchair. He stopped to talk to him and listened to Nicholas's story and dream. Martin carried Nicholas on his back and took him out into the surf. After struggling with the extra weight, Martin was finally able to stand up on his surfboard with Nicholas. The crowd cheered as they both rode a big wave into the shore. Nicholas's dream had come true.
Soon after, Martin was disqualified from the competition but had the following comments on his decision and gesture.
One thing that is certain is that I was not defeated. To help him fulfill his dream, it was the best victory in my life.
▼Please take a look at this video that shows the tears and joy of a man whose dream came true.
See Video Here
---
source:

YouTube
---