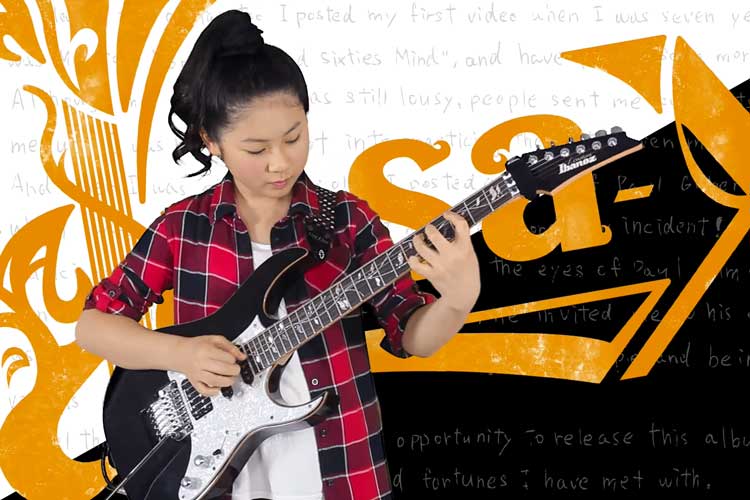 source: YouTube
The power of social media networks have provided more opportunities for talented people of all ages to showcase their talents to a global audience. Here is an example of a 12-year-old Japanese girl who has displayed amazing ability playing the guitar who has quickly an online star! Her name is "Li-sa-X" and her story is really quite remarkable!
She began playing the guitar when she was 8 years old and when she posted a video of her playing a guitar cover of the song "Scarified" by musician Paul Gilbert on YouTube! Her video caught the eye of Paul Gilbert himself. After that, she was invited to perform on stage with other musicians and her talent was recognized and commented on by various media outlets all over the world picked up by a lot of encounters and media and started taking a big tide as a guitarist!
See Video Here
When Li-sa-X was 8 years old, the direction of her life completely changed when she performed guitar cover of the song "Scarified".Li-sa-X "Scarified" Cover
On February 8th, she released her debut album which is titled "Serendipity". The definition of "Serendipity" is an accidental encounter or unexpected discovery which is appropriate for her story!
See Video Here
Serendipity EP
Here is she appearing as a guest musician with Paul Gilbert on stage!
Here is she with Hi-STANDARD drummer and musician Henry Okiaki.
What did you think?
This girl has unmistakeable talent who has a bright future as a musician and performer! For more details, please check her out on Facebook and on Instagram below!
Li-sa-X Official Facebook Page
lisaxguitar Instagram
---
source:

YouTube

/

YouTube

/

Instagram

/

---